Rihanna, Kate Moss Strip Down For V Magazine's March 2013 Cover (PHOTOS, VIDEO)
Remember when
Rihanna
went and
shared leaked photos of her steamy V magazine shoot
with
Kate Moss
?
Yeah, V wasn't too happy about that. But now
the official spread
, which appears in the March 2013 issue of V, is finally here and Rihanna can shout it from the rooftops with no repercussions.
The much-hyped editorial features Rihanna photographed with Moss in all sorts of suggestive, cuddly poses: Rihanna naked with Kate on top, Kate naked with Rihanna on top, the pair pulling their faces thisssss close together... you get the idea. The semi-racy shoot is par for the course for both women as well as Mario Testino, a fashion photographer who always brings out the sexy in his subjects.

It's also par for the course for a magazine to stick Rihanna or Kate Moss on a major cover. V magazine has gone all out and done both. Way to be, V.
Check out the covers and a behind-the-scenes video below, and
see the rest of the spread at VMagazine.com
.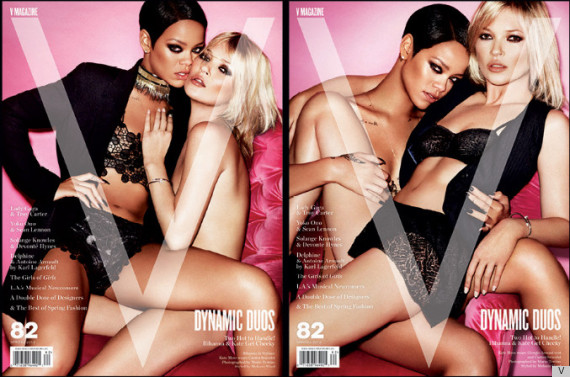 I got my life handed to me. Hot && steamy for sure!
What were your thoughts?